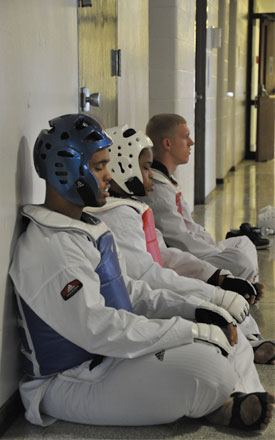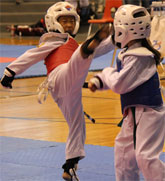 Olympic Taekwondo sparring started in the 1988 Olympic Games as a demonstration event and evolved into a full medal event in the 2000 Sydney Olympic Games.
Competitive Taekwondo sparring is a fast, exciting, full contact martial sport with emphasis on a wide range of kicking techniques as well as footwork, quickness, distancing, and reactive motion.
The North American Taekwondo Academy adheres to the Olympic sparring rules set forth and governed by the World Taekwondo Federation (W.T.F). as well as forms (poomsae) standards set forth by the Kukkiwon – World Taekwondo Headquarters. Our Taekwondo competition team trains and actively competes in forms (poomsae) as well as free-sparring contests.
Students from each Taekwondo class (kids and adults) are welcome to join the competition team. Our academy regularly competes throughout the spring, summer, and fall seasons.