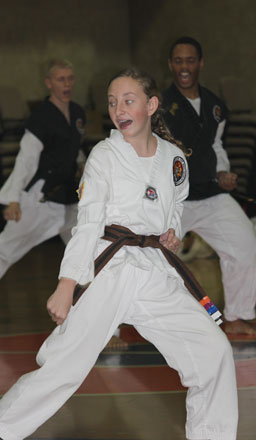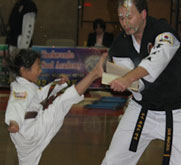 The North American Taekwondo and Hoijeon Moosool demonstration team is dedicated to spreading the word about martial arts and Korean culture through practicing, performing, and presenting Taekwondo and Hoijeon Moosool.
Our Demo Team is a great opportunity for additional training, developing team-work skills, and having fun to the music. The goal of our demo team is to empower people's lives through the demonstration of unique martial art skills and creativity.
Demonstrations usually focus on Taekwondo fundamentals such as:
Standard and creative poomsae
Quick and agile flying techniques
Powerful breaking techniques
Traditional martial arts etiquette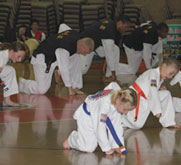 Students of all ages and ability are welcome; team members typically range in age from 5 years old to adult. Team members are expected to work hard, represent the academy, give it their all, and have a good time.
To book a show, please fill out the form below or give us a call at 734-482-1332 and ask to speak with Grandmaster Johnson.